Dublin University Football Club (DUFC) Men fell foul of a last minute penalty kick in College Park today, losing out to Ballynahinch RFC by a single point. The 35-34 defeat was their second loss in two weeks in the All Ireland League (AIL) Division 1A.
Trinity fielded a strong team to face the Co Down side, with Tony Smeeth making three changes to the side that lost out to Cork Constitution by three points last weekend. Ryan Baird made his first start of the season for DUFC after making his Leinster senior debut in October.
The game was evenly matched throughout, with both sides enjoying spells of dominance over the course of the tie. It was the away side that made the first offensive breaks – scrum-half Rhys O'Donnell made several bursts forward as Trinity came under pressure in the opening passages.
ADVERTISEMENT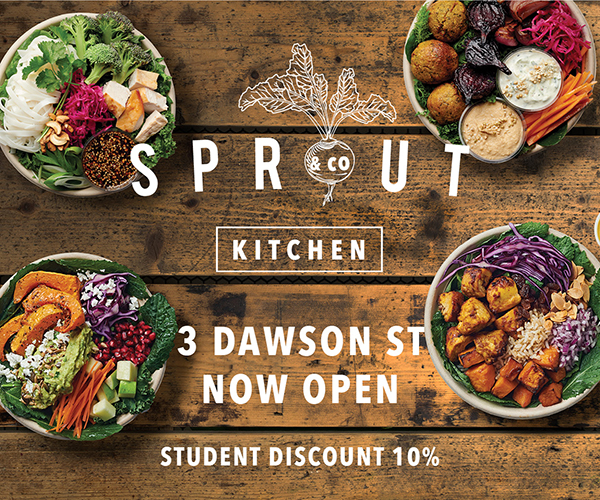 There was only eight minutes on the clock when Ballynahinch made the breakthrough: Robert Baloucoune – undoubtedly the standout player of the match – caught a cross-field kick in the Trinity 22 and dived over for five. Bill Johnson converted to make it 7-0.
Trinity responded immediately: Baird rose to collect the restart, securing possession for the home side. Colm Hogan dummied and broke into the Ballynahinch 22, passing off to Liam Turner. Trinity won a penalty in the breakdown, and Michael O'Kennedy duly dispatched to open the scoring for DUFC.
Ballynahinch's game plan was focused on holding possession for as long as possible. Much of the play was concentrated in midfield as a result, with patient build-up play creating openings. Despite landing some big tackles, Trinity conceded a penalty, and Johnson restored the away side's seven-point advantage.
Trinity never let Ballynahinch get too confident – indeed, for large parts of the match, DUFC were by far the better side. Baird led the charge in the search of the first try, making important carries in Ballynahinch territory. Play was pulled back for a penalty after play in the Ballynahinch 22 broke down, and O'Kennedy scored his second of the afternoon.
With gaps beginning to show in the away side's defensive set-up, DUFC moved in to attack. Rob Russell capitalised on a fumbled ball to move play into the 22. The ball was moved through the hands, with Ronán Quinn and Hogan heavily involved. It was Aziz Nasar who eventually barrelled over the tryline, helped by a Trinity maul. O'Kennedy converted and DUFC were ahead.
Ballynahinch finished strongly in the first half. Max Kearney saw yellow for an infringement in the Trinity 22, and the away side looked to utilise their extra man to force a score. Ross Adair provided Baiacoune with the chance to score his second of the afternoon, and the winger made no mistake. Johnson added the extras and left it at 17-13 heading into the break.
Ballynahinch picked up where they left off, adding three points to their tally courtesy of another Johnson penalty after the restart.
Trinity, looking to get back into the game, were helped by Quinn's pace and dynamism, and he won DUFC a penalty that gave them a platform to do just that. O'Kennedy opted to kick to touch, and the decision was vindicated when Hogan found space out wide and crashed over for a converted try that levelled proceedings.
But just when Trinity were looking like they were about to take control, a piece of individual brilliance from Baiacoune exposed Trinity's defence. Collecting the ball on the flank, the winger kicked down the line and gathered the ball before the Trinity 22 to race over and complete his hat-trick. A missed conversion left it at 25-20.
Trinity came again – this time, Leinster teammates Rowan Osborne and Baird combined to move play into the Ballynahinch 22. Hogan again created space for himself, side-stepping defenders to respond immediately to the Baiacoune try. Hogan's second score, along with an O'Kennedy conversion, put their noses in front.
With 15 minutes to go, Trinity looked to kill the tie. Play was confined to the away side's 22, with several phases of play testing Ballynahinch's resilience. They failed to hold off the Trinity push, and Joe McCarthy was on hand to score his side's fourth try. O'Kennedy split the posts and left it at 34-25 to the hosts.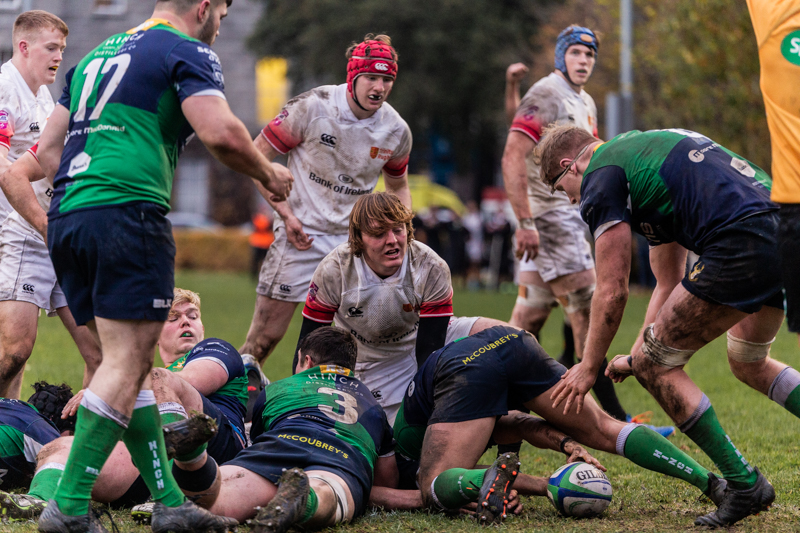 With a commanding lead heading into the final 10 minutes, Trinity looked like they would coast to victory. Ballynahinch had other ideas, however: it was Aaron Cairns who broke through the DUFC defence, following some excellent work from lock Jack Regan. Johnson converted, leaving two points between the teams.
With the clock approaching 80 minutes, play was forced back into the Trinity half after the restart, with try-scorer Cairns making a crucial carry. A dubious pass set Olly Loughead free to run for the tryline, in a move that would have finished the game were it not for a vital Hogan tackle.
Trinity won back possession, but were unable to move out of the 22. The hosts were playing a dangerous game – running the clock down, they attempted to break out of their territory with static carries.
Disaster struck when an infringement gifted possession back to the away side. Ballynahinch won a penalty after the scrum, and Johnson had a simple kick to clinch the match. He made no mistake, and was smothered by his teammates after he made the score 35-34. The final whistle blew, consigning Trinity to their second loss on the bounce.
DUFC will feel extremely hard done by today. Despite playing some excellent rugby, their indecision in the final minutes was punished by a solid Ballynahinch side. The return of Baird to the fold will be encouraging for Trinity, and a friendly match against Oxford University next weekend will be a chance to reset the clock. DUFC will be back in AIL action in two weeks time, when they travel to face a struggling Young Munster side.
DUFC: Colm Hogan, Rob Russel, Liam Turner, James Hickey, Ronán Quinn, Michael O'Kennedy, Rowan Osborne, Bart Vermeulen, Ben Nel, Aziz Nasar, Joe McCarthy, Ryan Baird, Johnny McKeown, Max Kearney, Alex Soroka.
Ballynahinch: Paddy Wright, Aaron Cairns, Ross Adair, Ryan Wilson, Robert Baloucoune, Bill Johnson, Rhys O'Donnell, Ben Cullen, Tom Stewart, Jonny Blair, Jack Regan, John Donnan, Clive Ross, Olly Loughead, Marcus Rea.